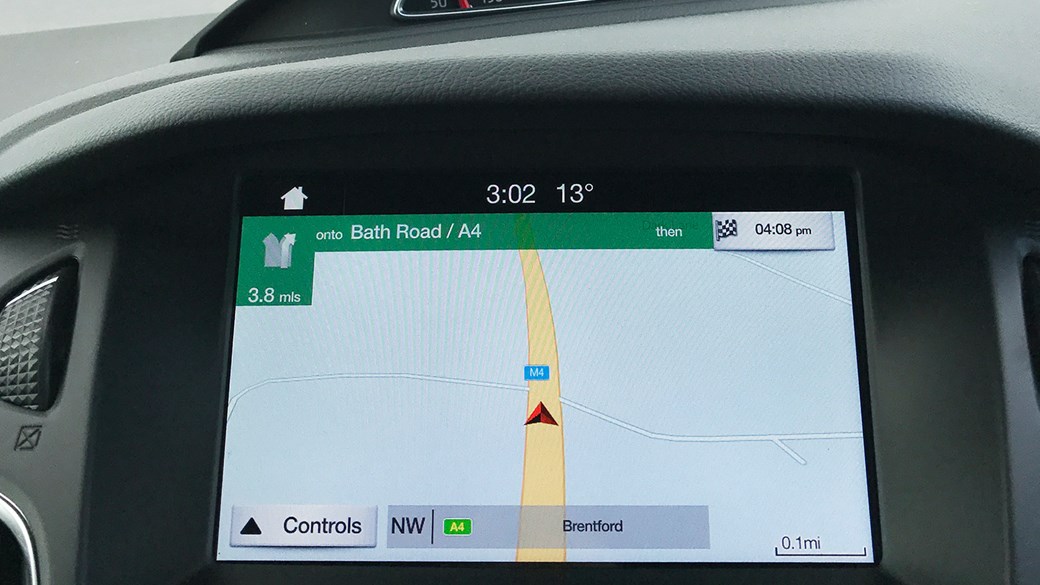 Month 4 living with a Ford Focus RS: what is Sync 3 infotainment like?
Sync is on the blink. Ford's infotainment system is usually very good – especially this Sync 3 version that has Apple CarPlay and Android Auto, plus better graphics and bigger buttons. But lately the sat-nav function has had a few moments – like the nav sub-menu button refusing to work, or the time the map claimed I was in Brentford when I could have sworn I was actually in Oxfordshire.
When I take it to a Ford dealer I'll be getting there using Google Maps on my phone.
By Ben Pulman
Month 3 of our Ford Focus RS long-term test review: is it comfortable enough?
After criticising the ride quality of the Focus RS last month, I was going to draw a line under that bumpy issue until the end of its tenancy with us – but I feel duty bound to report two further incidents.
The first occurred at this month's Ferrari photo shoot at Rockingham. We used our fast Ford as a support vehicle and camera car, and while it's no cavernous estate, the boot is big enough for a photographer, and the engine has the punch to keep a red supercar honest.
Yet even the super-smooth race circuit surface couldn't disguise the tough suspension. A minute into our first tracking shot, photographer Barry Hayden was asking me if it was in Sport mode. Or whether I could fiddle with the dampers. Or… No Barry, this is just how it is. Sorry.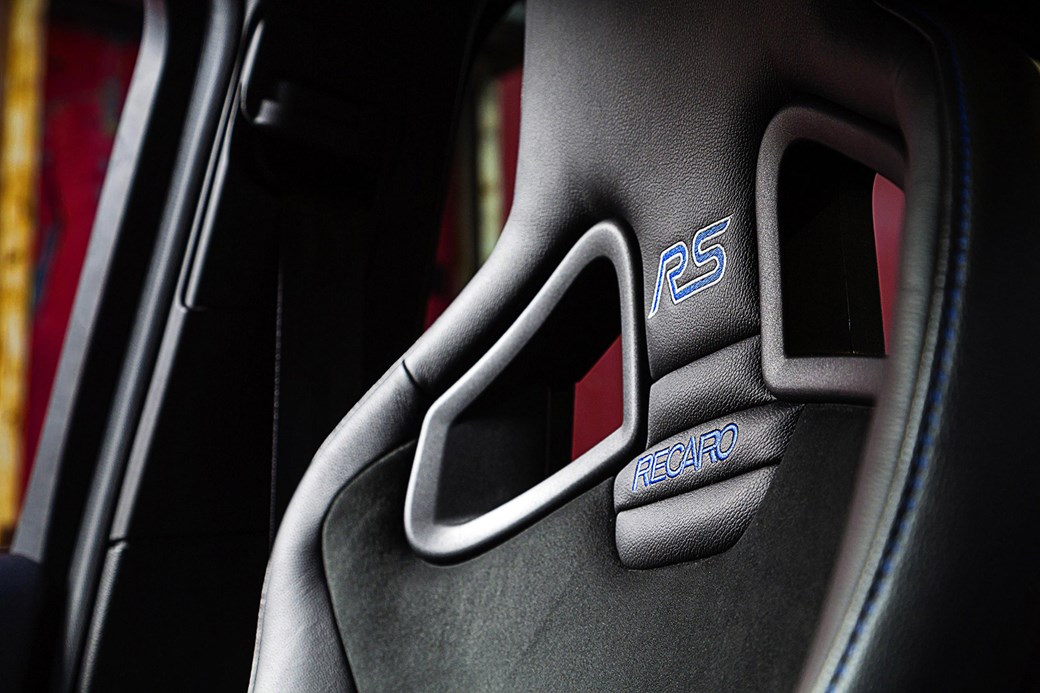 Then came the nail in the coffin. After a weekend away seeing friends, halfway through the return journey Mrs Pulman summarily declared: 'This car makes me feel fat.'
Considering she spends far too much time doing yoga and is basically vegan this was bollocks. I told her just as much. And that in no way was she allowed to use that line to take my precious hot hatch away from me.
But unlike any similar declaration in the past – and presumably the future too – this time there was a rational explanation: the Recaro seats are too tight on her hips, and given every bump and rut is transmitted through to the cabin, the constant jolting makes everything jiggle. Or flobber about, as she put it.
It seems more yoga must be done to combat the rock-hard suspension, a pressing middle-class issue surpassed only by our rush home that day from the Cotswolds to meet an Ocado delivery.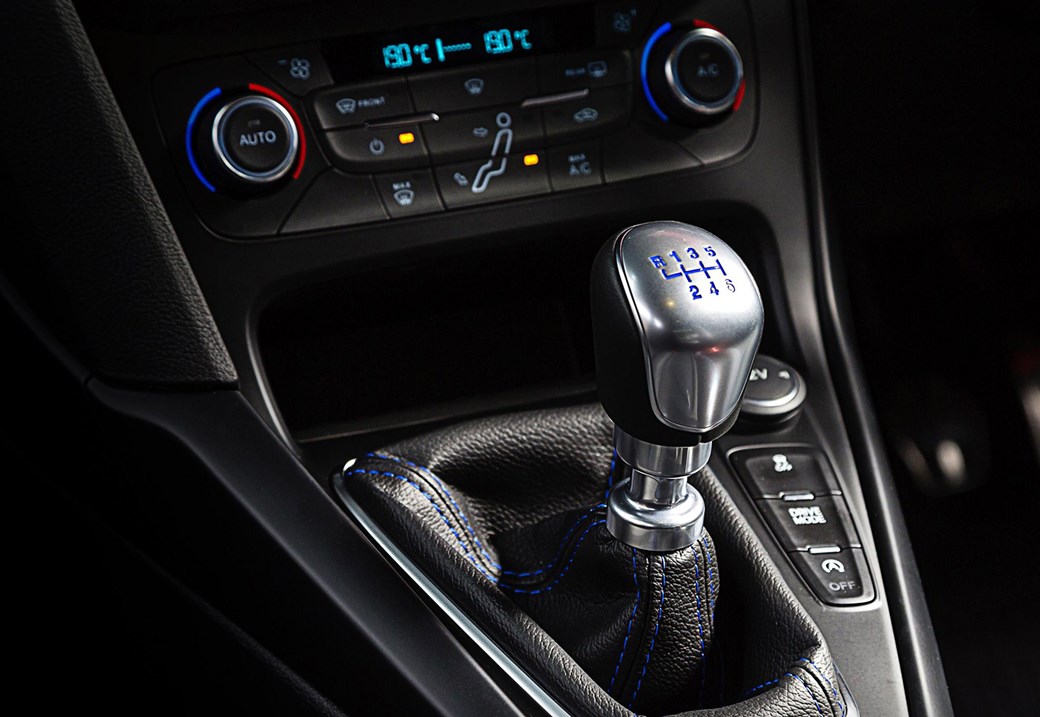 And, no, before you ask, Ford's optional Recaro buckets make no difference. They're seemingly mounted no lower than the same-brand standard seats in our car, and nor do they squeeze, pinch or hold you anywhere differently either. Save £1145 is my advice.
Spend it on gaudy Lululemon leggings and bloody organic avocados instead.
By Ben Pulman
Month 2 living with a Ford Focus RS: sporty over supple
If the first 100 yards really do reveal much of a car's character, initial impressions of the Focus RS are entirely of its abrupt ride.
On the same stretch of road, the latest 911 GT3 is more supple. 'Crude' springs to mind, as does a worry that the constant hustle and bustle from the Ford's suspension might sour this relationship. I hope not.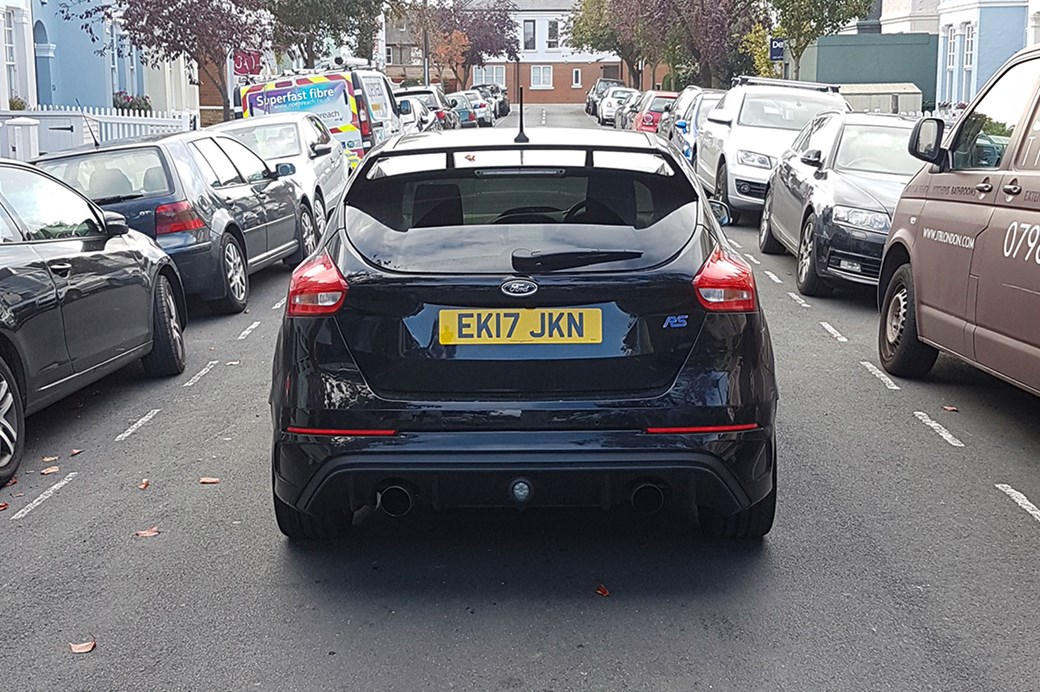 The interior quality, the infotainment and the Recaro seats are good; the performance is more than good. Especially when it rains, and leaves that Cup tyre-shod Porsche for dead.
By Ben Pulman
Logbook Ford Focus RS
Engine 2261cc 16v turbo 4-cyl, 345bhp @ 6000rpm, 347lb ft @ 2000rpm Transmission 6-speed manual, all-wheel drive
Stats 4.7sec 0-62mph, 165mph, 175g/km CO2
Price £32,265
As tested £35,390
Miles this month 558
Total 3510
Our mpg 28.8
Official mpg 36.7
Fuel this month £110.30
Extra costs None
Month 1 living with a Ford Focus RS: the start of our long-term test
The logical answer wasn't in doubt. What else but a Golf? We needed a new car, something enjoyable to drive, both small and subtle enough for life on the streets of London, and still practical for whatever our impending married life might hold. It's what a CAR group test would conclude, after all, and would save us visiting a series of industrial estates when we should be fretting over favours and how much money to put behind the bar.
As things turned out, organising a wedding was a doddle compared to shopping for a car. My wife wanted to come too, as she didn't trust me not to come home with a secondhand Cayman. So off we went, visiting the local showrooms, seven days before the big day. We crossed off BMW, Merc was discounted too, and while we wavered over an A3, our answer was inevitable: we should get a Golf.
Then it was a case of figuring out which Golf. Or in my eyes, whether it was to be a GTI or an R. An R Estate, I thought, perhaps on one of those absurdly cheap leases that occasionally pop up. I even got a text from a mate while we were away on honeymoon, tipping me in the direction of just such a deal. Only the new Mrs Pulman didn't want it in white, and then I wavered, and 24 hours later the offer was gone. Drat!
Ford Focus RS or a Golf R?
I'd been moments away from committing to a Golf R Estate for three years – but now CAR's new long-term-test Ford Focus RS is making me question whether I was doing the right thing.
CAR magazine twin test: Ford Focus RS vs VW Golf R
I never really considered the RS; these days it's not Fords and Vauxhalls that are the default choice. But a 2.3-litre engine, shared with the Mustang but upgraded with a 10 per cent power hike to 345bhp, says I should have at least looked this way. And it's not like a Focus isn't a practical car. Plus it's got four-wheel drive (despite Ford telling us for two generations of Focus RS that all-whel drive added cost and weight at the cost of fun), big 350mm Brembo front brakes, Recaro seats, and four driving modes including a Drift Mode that the hype will have you believe transforms even the most inept driver into Ken Block.
We live with a 2018 Ford Focus RS for a year: CAR magazine's long-term test review
All this, for just £28,940.
Sorry, £29,995.
No, wait, £31….
Oh, actually, er… it's £32,265. Between the Focus RS being unveiled and actually going on sale in the UK there was a price rise, and then the public Brexit vote last summer and its subsequent economic impact devalued the pound to the extent that this fast Ford is now over 10% more expensive.
You'll have spotted that it's not blue. Apparently more than 60% of RS buyers opt for Nitrous Blue (and I've never seen a Mk3 RS on the road in any other colour) while only about 10% choose the Shadow Black hue we had our car painted in. It's a lot less lairy in the dark colour, both subtle (like we wanted) and rather sinister. That, and it helps disguise just how much of the nose is in fact a gaping air intake.
Our detailed Ford Focus RS review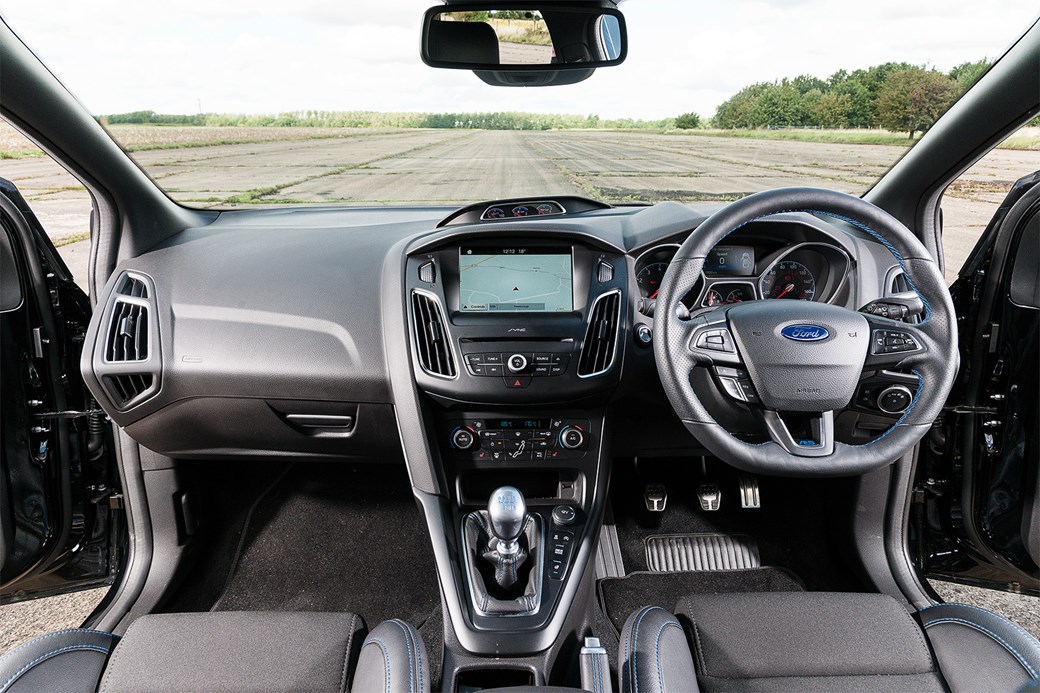 The optional gloss-black forged wheels (£975, and taken up by nearly every buyer) suit it well and are nicely understated when compared with the standard silver alloys, while the blue brake calipers are another almost-default option (at £25 per corner) and about the only hint of colour on the outside.
And here's the point where we'd usually make a joke about the dark, drab and dreary interiors of Fords. Except it's great. The latest Sync3 infotainment system is good, ditto the Recaro seats (we don't have the £1145 Recaro buckets, which look fantastic, except this isn't a two-day group test thrash in Wales – it's six months of real life) and you'd be hard-pressed to spot any inferior plastics or sub-par areas of fit and finish.
To the standard list of equipment (including bi-xenon lights, dual-zone climate control, 10-speaker Sony stereo and a reversing camera) we've added parking sensors, cruise control, privacy glass, engine stop/start, heated front seats and a heated steering wheel, which adds £1525 to the list price, for a total price of £35,390.
The days of the £19,995 Mk1 Focus are long gone, but while a Mk5 Golf GTI cost the same back then, spec a new Mk7.5 Golf R to the equivalent level of our RS and it's more than £37k.
Silly money. Unless you get a cheap lease deal. Which is exactly what the Focus RS has to convince me not to do six months from now…
By Ben Pulman
Logbook Ford Focus RS
Engine 2261cc 16v turbo 4-cyl, 345bhp @ 6000rpm, 347lb ft @ 2000rpm Transmission 6-speed manual, all-wheel drive
Stats 4.7sec 0-62mph, 165mph, 175g/km CO2
Price £32,265
As tested £35,390
Miles this month 125
Total 2952
Our mpg 24.8
Official mpg 26.7
Fuel this month £29.49
Extra costs None
source : carmagazine.co.uk