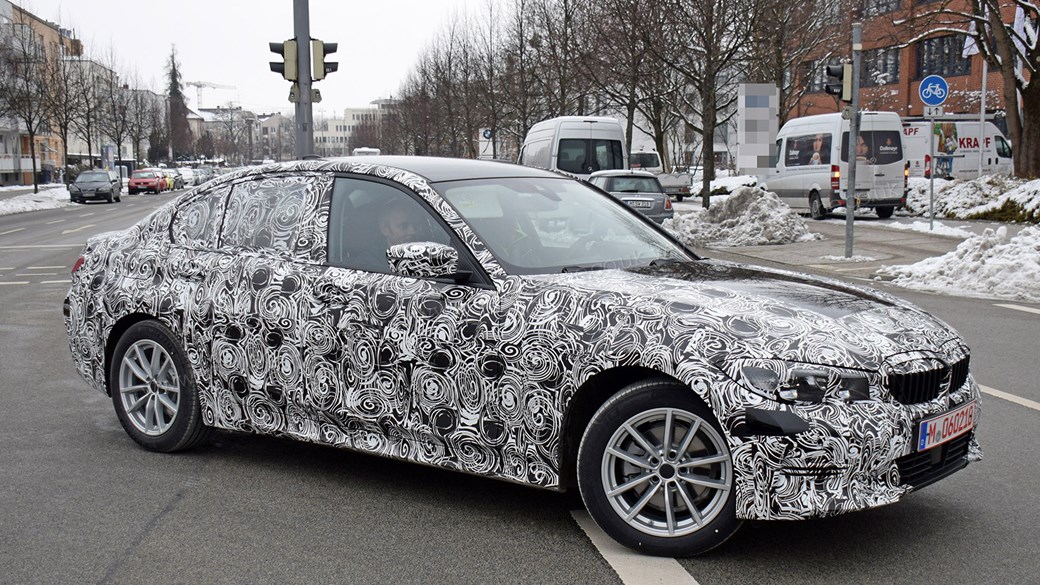 We've scooped the new 2018 BMW 3-series again - and the disguise is slowly peeling away to reveal what is shaping up to be a junior 5-series in looks, style and engineering details. Read on for the most comprehensive scoop around of the new Three, codenamed G20.
Our new spy photos capture the car on test in Germany. Although this still disguised, some of the padding hidden beneath the camouflage is now removed, revealing more production-ready bodywork and silhouettes. We get a good look at the signature 'squircle' twin BMW headlamps too.
We now know the launchpad for the new 3-series: it will be revealed to the world at the 2018 Paris motor show in October 2018, so there are still a few more months to wait for the first official pictures, probably scheduled for the summer.
First up is the new 3-series saloon, depicted in CAR magazine's artist's impressions below and in our gallery. Although due to be shown this autumn, the new Three won't in fact go on sale until well into 2019, CAR understands, while the Touring estate and other bodystyles (including two-door 4-series) won't be seen until later this decade.
Check out our quick whistle-stop video guide to the new 2019 BMW 3-series above (hat tip to Bimmerpost for some nice video footage of G20).
And read on for the full skinny on the benchmark compact exec...
A look inside the cabin of the new G20 BMW 3-series
Recent spyshots have also given us our best look yet inside the next saloon, including the full digital instrument panel inside the new 3-series, likely to be made available on high-end variants. It aims to close the gap with the new class-leaders, the latest Mercedes-Benz C-class, Audi A4 and new Jaguar XE. Gone are the days of BMW hegemony in this important sector, and they're pulling out all the stops to close the gap.
source : carmagazine.co.uk