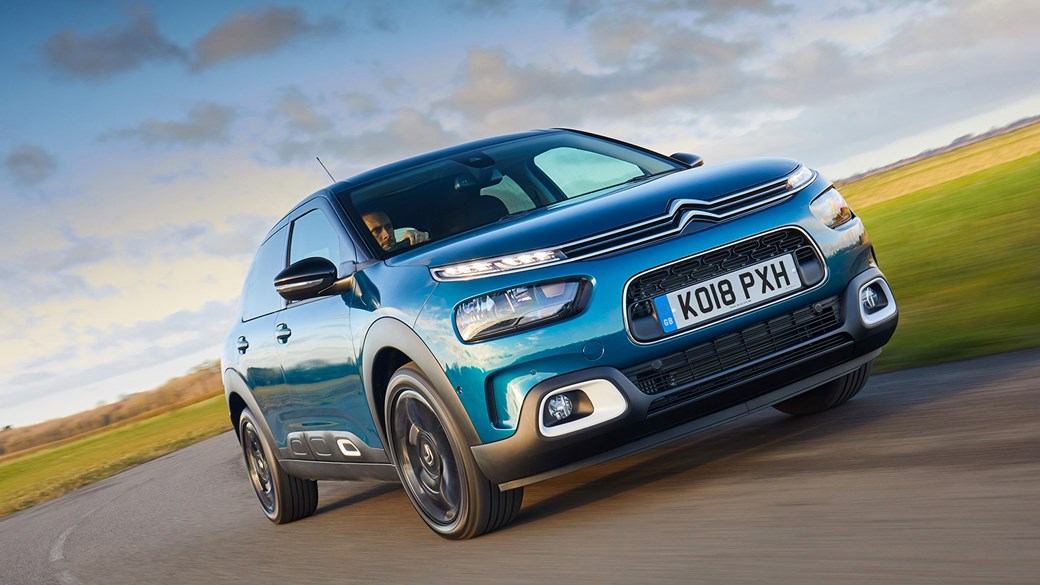 We've always had a soft spot for the original Citroen C4 Cactus launched in 2014. It's a clever little car that majors on lightness, comfort, efficiency and good design. But like all the best Citroens, this one polarised opinions – and as a consequence, its sales have been less than stellar, notching up a little over 30,000 in the UK. That means its mid-life facelift rides tandem with a shift in marketing that attempts to push it into the hatchback mainstream, and away from the SUV sector.
The Cactus also has the job of replacing the C4 hatchback. Now here's a task for you – close your eyes and try to picture the outgoing C4 hatchback. You can't, can you? Here's a handy hint if you're stuck.
Citroen thinks that the oh-so clever C4 Cactus will do a better job of encouraging would-be Ford Focus and Vauxhall Astra buyers into their showrooms than the old C4 ever did. And we think they could be right.
Browse Citroen C4 Cactus for sale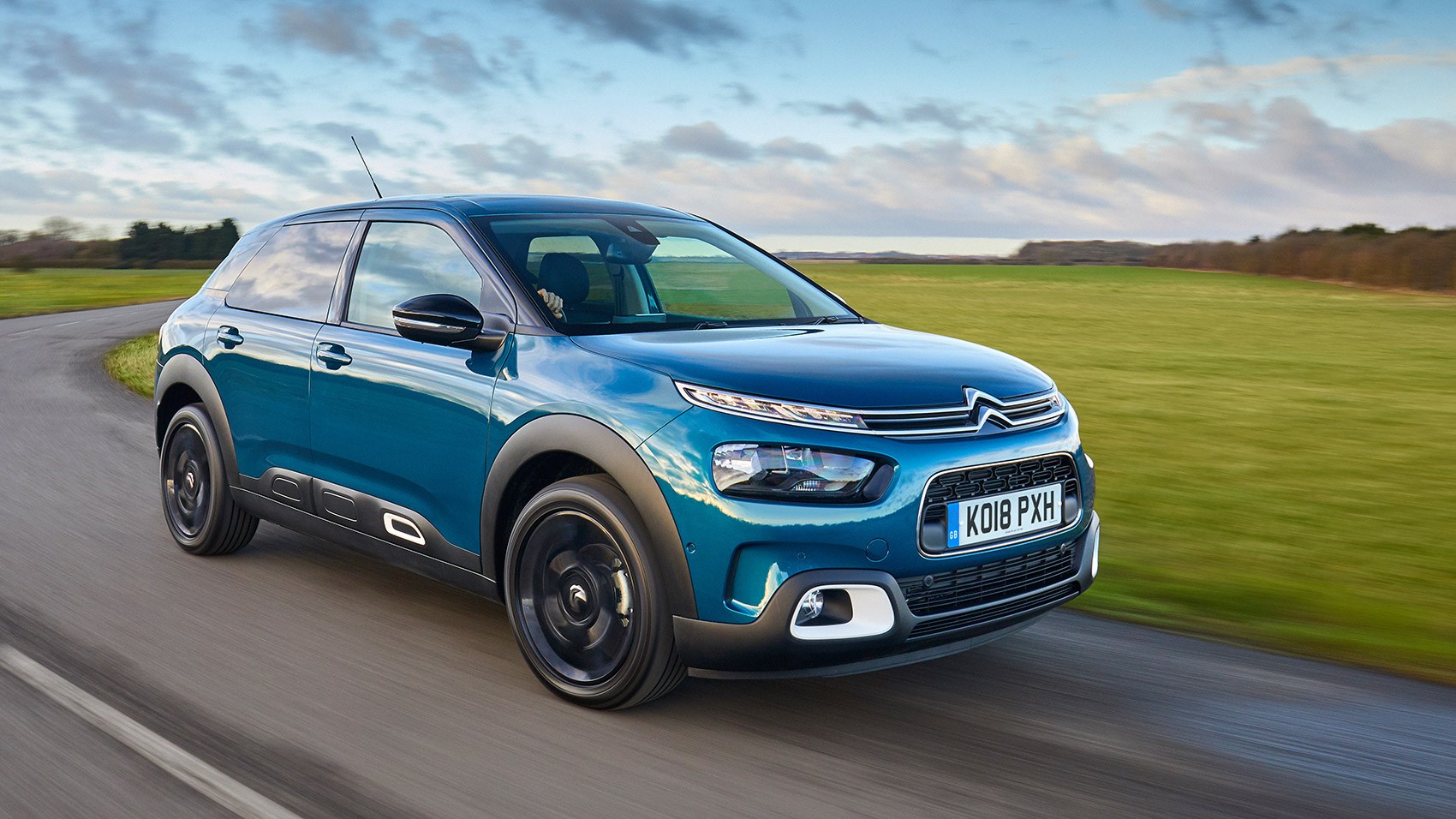 We're also quite glad people can now stop calling it an SUV. It isn't one, and it's far too clever for that. Although the 2018 Citroen C4 Cactus is all-but shorn of its door panel-protecting Airbumps (and some of its identity), there's no way that this car should have ever been lumped with the Kadjars, Mokkas and Qashqais of the world.
Besides, Citroen now has the C3 and (from this autumn) the C5 Aircross to fight those battles. Let's hope that this strategy works for the French company, because we'd hate this to be the last Cactus. And we'd hate to think of it as another victim of the seemingly unstoppable rise of the SUV...
So, what's with the new 2018 Citroen C4 Cactus?
More than you think, but the concept remains refreshingly unchanged. Although Citroen talks about all-new styling for the C4 Cactus, the 2018 model looks pretty much the same. And we're glad about that.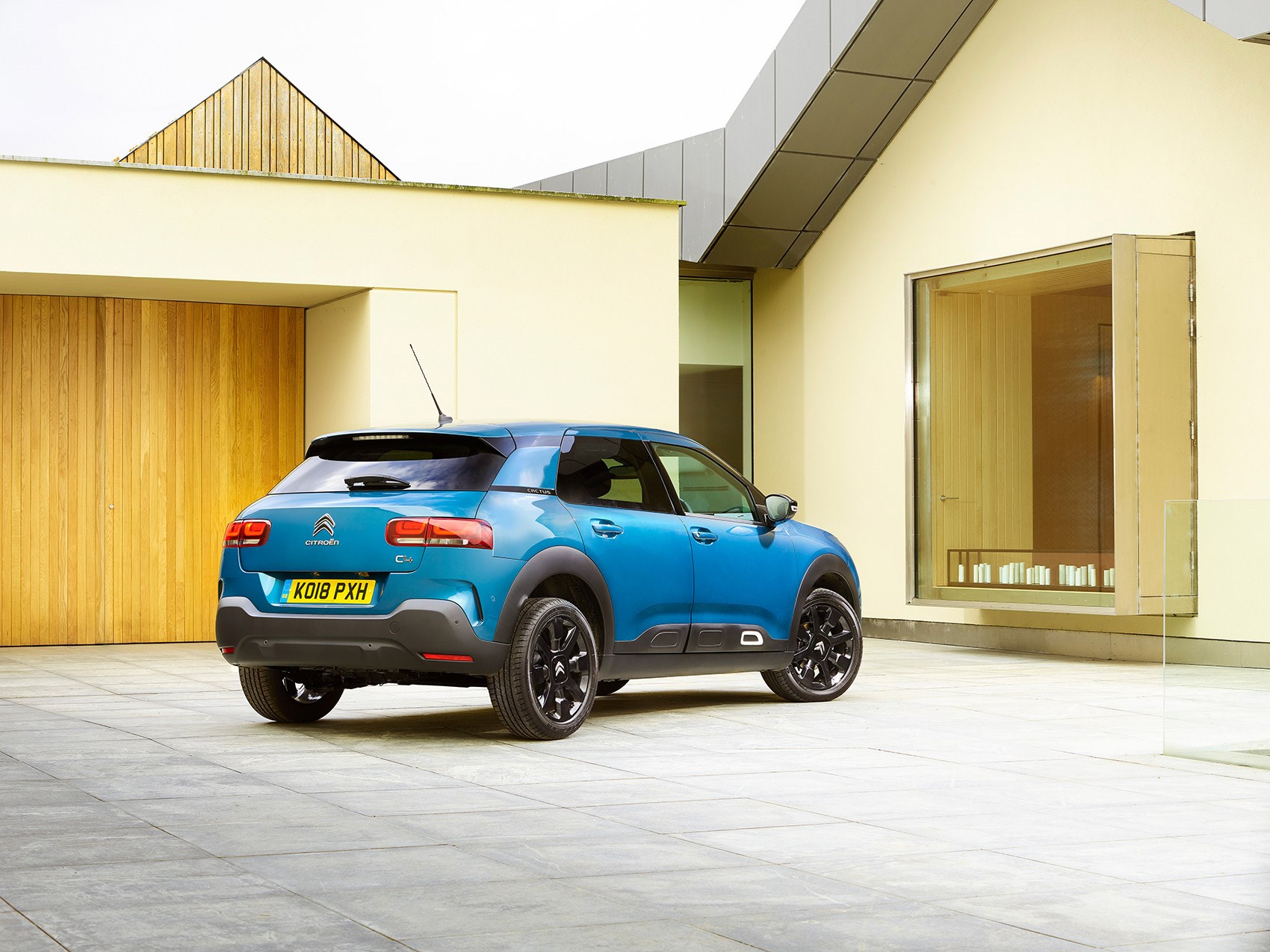 The new front end retains its chunky twin-level headlamp arrangement, although the smoother rear end, with body-coloured tailgate and Picasso-style rear lights are a little bit disappointing in its execution. The roofrails have gone, in the name of making it a little more hatchbacky, a little less crossovery.
The charismatic Airbumps haven't gone completely, mind. They're still there in a vestigial form, but now, they're at the bottom of the doors, rather like on the C3 supermini. You could say that makes the C4 Cactus less city-friendly, but actually, the bubble-wrap Airbumps weren't all that effective at helping stave off supermarket dings.
More colours and comfort offered
The new Citroen Cactus is more customisable now – with a greater number of interior and exterior shades than before offered. The interior is where there's most variance, with up to five different ambiences, including Metropolitan Red, Wild Grey and Hype Grey, but in truth, the breadth of the palette is nothing to write home about. The French trumpet 31 colour combos available (nine paint choices, allied to four colour packs trimming the foglight surrounds and Airbumps etc).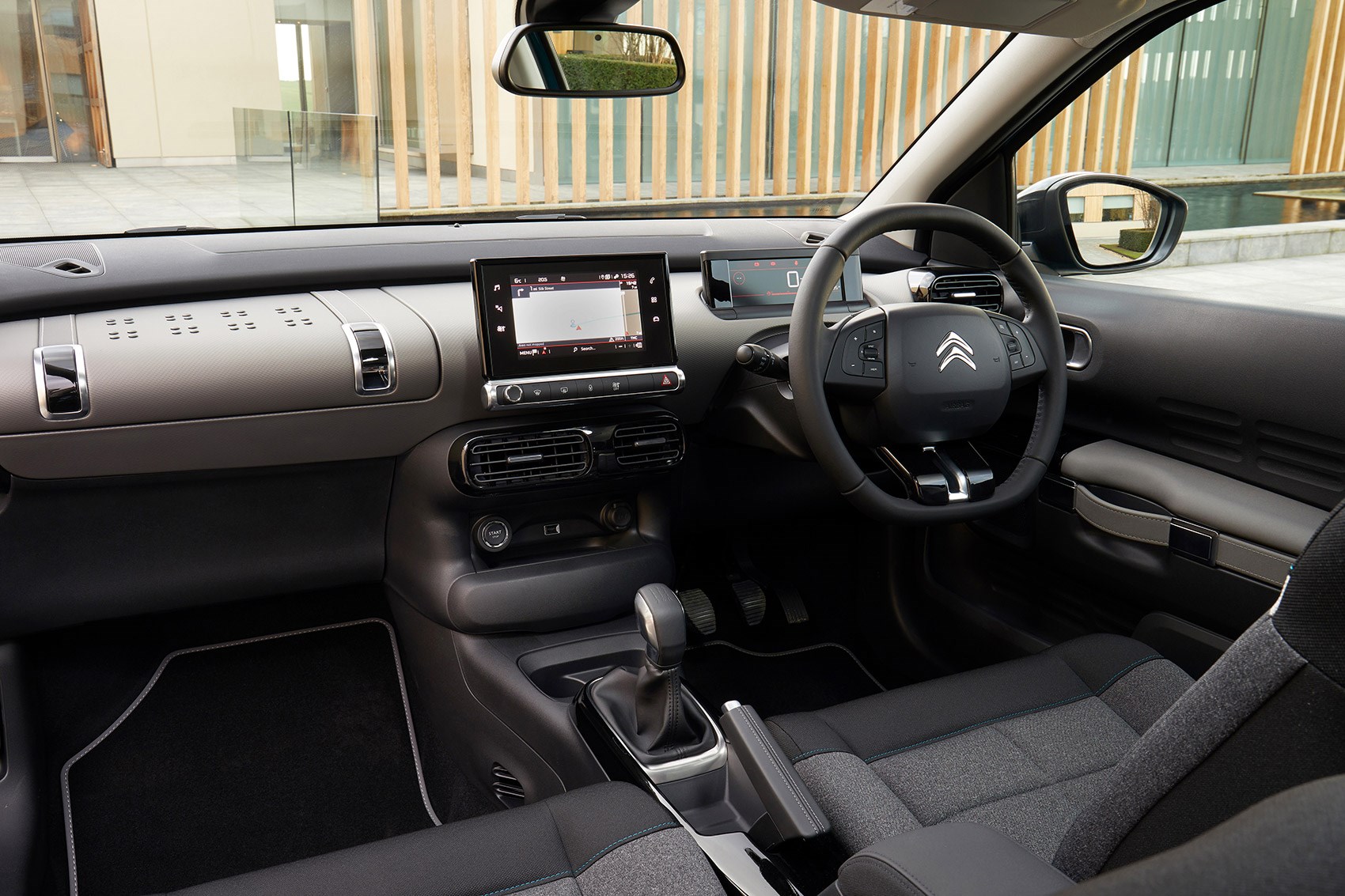 The biggest news is that the Cactus gets Citroen's new Progressive Hydraulic Cushions to top and tail its suspension struts, increased soundproofing and Advanced Comfort seats in an attempt to reinject some of that loping ride quality and high-speed hush that the company's classic cars are famed for.
We'll get to that – but in short, it's a welcome USP in a class where few manufacturers champion outright comfort, favouring keen handling and pothole-jarring sports suspension. Perhaps that's because buyers just don't want to be cossetted anymore, even if Citroen thinks otherwise.
An anti-Nurburging hatchback! And there's more safety kit, too...
Standard safety equipment has been upgraded along with the facelift, too. You now get what Citroen calls Active Safety Brake (autonomous emergency braking), traffic sign recognition, lane-departure warning, and fatigue alert. As before you can also equip the new Cactus with reversing camera, automatic parking and cornering headlights.
It's powered by a trio of Puretech petrols and a single diesel. You can specify the excellent three-pot in 81, 109 and 128bhp forms (the highest-powered unit is new for 2018, and the lowest will be phased out in June 2018). For those who are looking for the best performance at the pumps the BlueHDi 100 is your only diesel option. The 109 and 128bhp petrols are also offered with the new EAT6 six-speed automatic.
What's the new Citroen C4 Cactus like to drive?
We drove the Feel edition powered by PSA's Puretech turbocharged petrol 1199cc three-pot in 109bhp form. It's a great engine, with plenty of punch throughout the rev range, and its response is helped by the car's sylph-like 1070kg kerb weight, which is a good 150kg below the class norm. You might think that these weight-saving measures will mean a paucity of solid refinement, and you'd be wrong. And right...
The Puretech doesn't sound its best in the Cactus, though. There's a gravelly edge to its three-pot thrum, but it revs willingly and cleanly, and when mated to PSA's six-speed auto, it's responsive and rarely feels like it's held back by the fact it's a two-pedal car. Although the on-paper performance figures aren't anything to write home about, mid-range acceleration is positively lively – A-road overtaking won't leave you fretting.
Trade up to the 128bhp version (badged 130, in metric horsepower), and performance is very brisk indeed. That bantamweight kerb mass is a blessing, with very little heft to carry acceleration is quite startling for a family-focused hatchback. The manual transmission is the pick of the range, with a light, precise (and slightly too long) action, while the automated manual is just a bit too lurchy at times for our liking.
The answer to the big question you're all asking, though, is yes: it does ride like a proper Citroen. A company with such a back catalogue of smooth riders, and which tells us that 'comfort is the new cool', has a lot riding on this one. The C4 Cactus is comfortable, long-legged and light on its feet. But it's far from perfect – and for those raised on a diet of conventionally stiff small cars, then jumping in the Cactus will feel like an alien experience to begin with.
Lots of comfort, yes, but does the C4 Cactus handle?
Even before you get very far, you'll enjoy the sensation of sinking into those Advanced Comfort seats. They use a new high-density foam that's 15mm thicker than that used on the original Cactus, and allow you to sink right in, Citroen CX-style. But as the miles flow by, the smooth ride really does make its presence felt – insulation from rough surfaces is really rather impressive. The edges of speed humps and other big irregularities are chiselled off very impressively, as the new dampers smooth off the worst corrugation British roads throw up.
As for the handling, does it really matter in a family car like the Cactus? Well, yes. And despite the soft ride in a straight line, once you get used to the above-average lateral body movement, it does corner very effectively indeed. On flowing bends, the Citroen grips admirably – once you learn to roll it gently into corners instead of throwing it in – and there's plenty of mid-bend poise. The steering lacks feel and precision, but once acclimatised to this, and the relatively slow lock, you'll find it faithful and untaxing to drive at a reasonable lick.
Sporting? Not a hope. But capable, very capable. As we say, it drives like a Citroen should – which means it demands understanding to drive effortlessly quickly, and you'll either love it or hate it. Which does beg the question that if Citroen wants to grow its market share, is this the right car to help meet that aim?
It's pretty much as it was before, other than those new seats and an updated centre console. That means a light, airy family-sized hatchback that abounds with clever storage solutions. The dashboard is dominated by digital speedo (without revcounter) and a central screen. That touchscreen is as annoying as ever, controlling everything from the sat-nav to the climate control – at least CarPlay works well, so you can voice control most things.
Citroen has made the glass a little thicker to help boost refinement and there are new door seals, too. We drove the new 2018 Cactus on a rainy day and refinement inside is impressive. It is a genuinely quiet car.
The rear-seat room is acceptable (just watch out for pinched headroom if you order the full-length sunroof), while the glovebox is roomy and the rear door pockets are capable of carrying two 1.5-litre water bottles, while those in the front can house another one each. The pop-out rear windows remain, which from an engineering standpoint we like (they save 11kg), but whether fresh-air-seeking passengers will agree is another matter.
Finally, the 2018 C4 Cactus has a boot capacity of 358 litres with the rear seats in place, increasing to 1170 litres with the rear pews folded down. The high loading lip remains, though.
At least you can now split-fold the rear seats (an omission on early Cactus models back at launch in 2014).
When can I buy a Citroen C4 Cactus in the UK?
The C4 Cactus is available to order now, and deliveries in the UK are set to take place from April 2018. It's priced between £17,265 and £20,895, and is available in Feel and Flair editions.
The Citroen Advanced Comfort Seats (below) are standard on all; some bottom-rung models won't get the Progressive Hydraulic Cushions in the suspension though, so spec your C4 Cactus carefully if you crave maximum comfort.
If you want to buy one on PCP, new Citroen C4 Cactus monthly prices will start at around £190, CAR understands.
Most buyers will opt for a petrol model; UK market specialists are predicting just one in five Brits will pick a diesel Cactus (down from 35% a few years ago). Remember this car is based on the old-tech PF1 platform, not the latest EMP2 architecture; this rules out any hybrid or electric versions in this lifecycle.
The facelifted C4 Cactus has an interesting job ahead. It needs to stand in for the old C4 until Citroen readies its replacement, which means it needs to attract new buyers into the fold that might not necessarily have gravitated towards the old car. Although it's more mainstream than before, it's still refreshingly different from the herd. Citroen product director Xavier Peugeot admits 'it's a divisive car, but I can live with that.'
We love its lightness; its cleverness of engineering. We also admire its single-minded pursuit of comfort, too - those new seats are a huge step forward and genuinely pampering for a car of this class. There is a pay-off in terms of refinement and perceived quality inside, and functionally and dynamically it's flawed compared with the best of the hatchback opposition.
But that patchy ability doesn't stop it being likeable. If you're looking for an idiosyncratic hatchback that allows you to stand out from the crowd, then step this way and don't look back. If you're buying rationally, and with your head, then this car is probably not for you. As we said, it's a proper Citroen.
source : carmagazine.co.uk