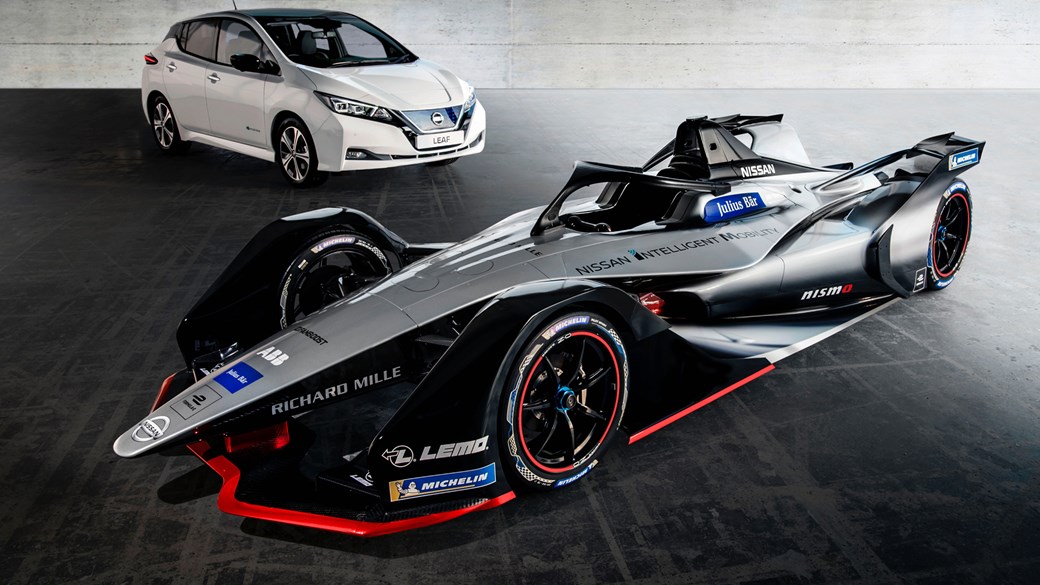 Top speed of around 190mph
► Made by Spark Racing Technlogies
► Battery by McLaren Applied Technologies
Nissan's preparations to join season five of the Formula E championship gained momentum at the 2018 Geneva motor show with the unveiling of its electric racer's livery.
Oh! Permission to be underwhelmed?
Despite having the fantastic-looking second-generation FE car as a starting point, Nissan's global design team seems to have played safe with a silver and black palette.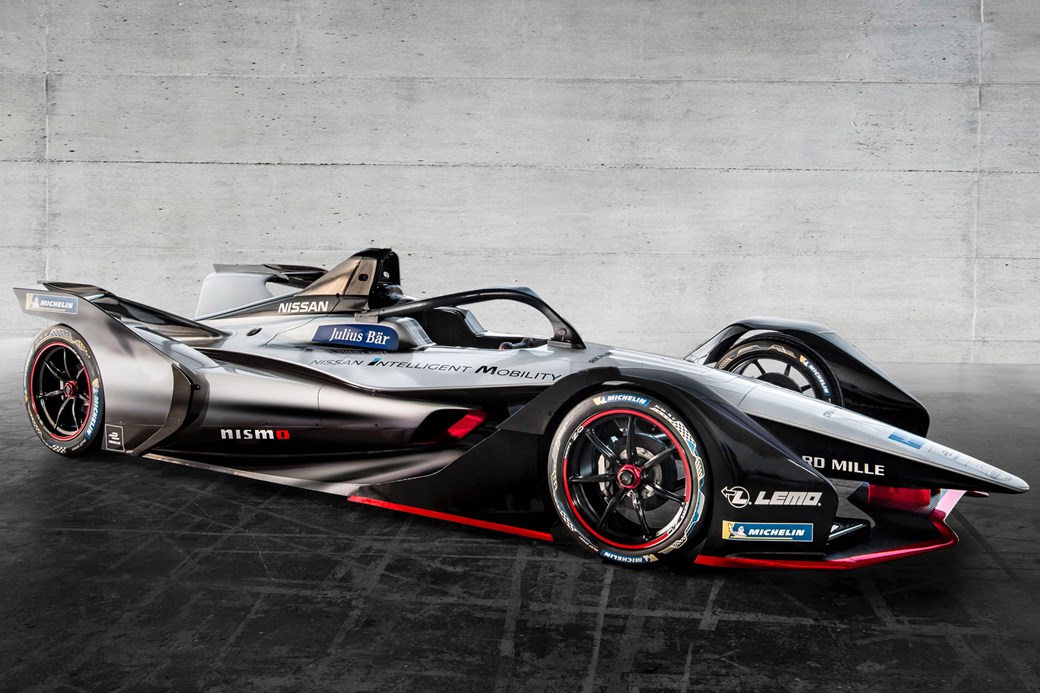 The two colours blend in the lower aspects of the sidepods, said to be reminiscent of the sonic pulse of the Doppler effect – think baby scans – which adds a bit of drama, but one can't help but think an opportunity's been missed here.
When will we see Nissan in Formula E?
Set to kick off in December 2018 with a dramatic all-new car, Nissan is the latest car manufacturer to dip its toe in electric single-seater racing, although it isn't starting from scratch.
Inevitably, there's sharing of technical knowhow from its corporate alliance partner, Renault, although after four seasons in FE, the French brand is withdrawing to concentrate on its Formula 1 campaign.
While the battery pack – now designed to last a whole race, so no mid-point car swaps – is common to all teams, Nissan will be working on the rest of the drivetrain to gain an advantage with its motors and single-speed gearbox.
Is a sporty Nissan Leaf closer to reality?
Nissan's global motorsport director, Michael Carcamo acknowledges the obvious marketing benefits of the Japanese marque entering FE, despite the fact that over 19,000 orders for its second-generation Leaf have already been placed.
'It will further raise Nissan's profile with people who don't equate driving an electric car with being exciting,' suggested Carcamo, although company bosses refused to comment on whether that meant the Leaf Nismo concept shown at the 2017 Tokyo motor show was a step closer to the showroom.'
New Formula E car for 2018/19
Just a few days before the Nissan was launched, Formula E revealed the new car for its 2018/2019 season, and against all expectations it looked rather good. Despite having a controversial Halo device – as well as enclosed wheels – the new Formula E car looks like an awesome hybrid of an open-wheeler and LMP1 car. And now we've got a better idea of how fast it'll go.
In 2018/2019, both the powertrain and battery of Formula E cars are supposed to get a substantial upgrade, and reigning champion Lucas Di Grassi has revealed how fast the 2018/2019 Formula E car is likely to be.
Di Grassi told Motorsport.com that the power increase – when combined with the new low-drag aero of the new car – could result in top speeds of of around 180mph – much quicker than the 140 mph of the current cars.
"The car is more efficient and it has more power," di Grassi told Motorsport.com.
"In the current configuration, with the power we'll have available, on a long straight this car could surpass 300km/h (186mph) without a problem, I would expect.'
'The car is very difficult to drive, it's efficient [and] it has more performance,' he added. As a result, he thinks Formula E might be able to move away from the super twisty, short tracks it's currently employing.
'I think FE should start designing longer straights, I don't see any reason why it should not have 700/800m straights on the circuits, to adapt the circuits we race on to these new cars,' he said.
However, Di Grassi added that to compare Formula E cars to other racing series is still wrong – as they're clearly for different things. 'You still can't compare the level of performance to F1 or LMP1-Hybrid," Di Grassi added. 'A car with this kind of performance would not be able to race on our tracks – it's impossible to put a Formula 1 car around the Paris FE track.'
Formula E 2018/2019 car: everything you need to know
The new 2018/2019 season chassis has been designed by Spark Racing Technologies, and it marks a radical change from the previous one. This year's car looks far less like an open wheeled, poor relation of an F1 car, and has its own unique, prototype feel.
A new swept-back front wing links to enclosed wheels, while the floor of the car also suggests a more Le Mans-style footprint. The back of the car is finished with an incredible X-Wing style spoiler, and a huge diffuser.
This is the first final design we've seen of any race car with a Halo device, and thanks to a clever paint job and a swooping lines – it's not that ugly after all, is it? To top things off, the new Halo device also features a ring of embedded lights, and knowing Formula E, it'll be used to indicate boost or battery level, driver popularity or perhaps the amount of retweets for something.
Unlike previous seasons, the new cars will be powered by a McLaren Applied Technologies battery instead of a Williams Advanced Engineering unit, after the former won the contract for this year. What's more, this season will also see the removal of mid-race car swaps, as range should now be long enough to complete an entire race.
More news from the 2018 Geneva motor show
source : carmagazine.co.uk