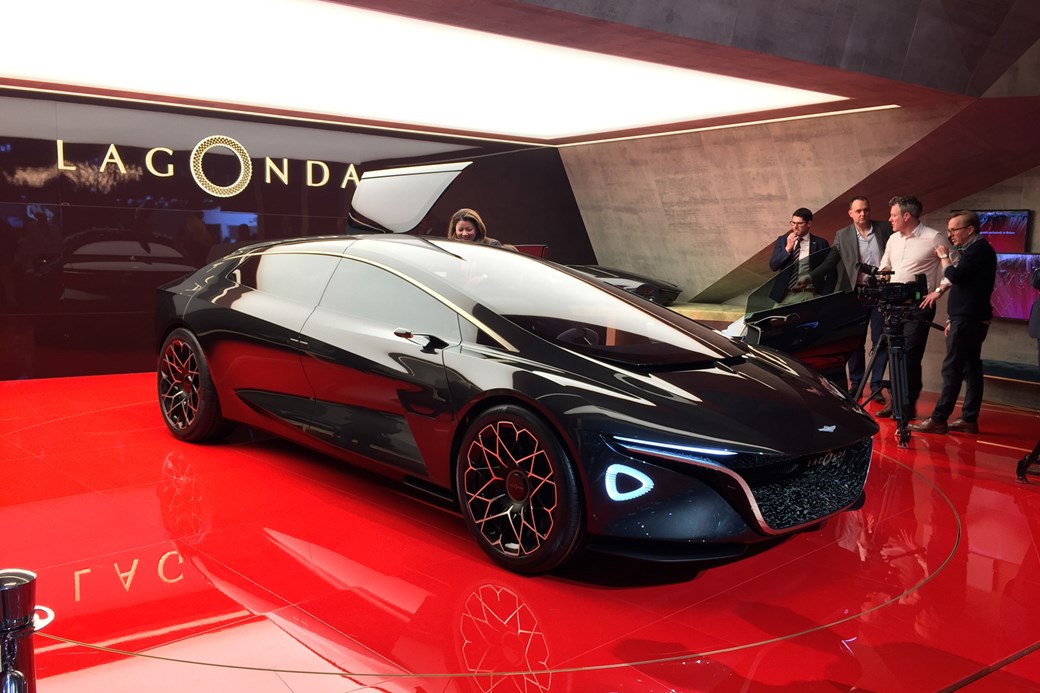 More info on Aston Martin Vantage
► New Aston Martin Vantage driven
► An early, icy test drive in the Arctic
► Watch Ben Barry in our new video
Aston Martin is on a roll right now, launching cars like the graceful new DB11, striking technical partnerships with AMG, making record revenues - and reviving old favourites like the Lagonda brand, previewed by this week's striking new concept car.
But it's not deserting its heartland: the Vantage has become one of the brand's most successful cars of all time and in 2018 it's replacing the old V8 with an all-new successor.
We've already driven the new 2018 Vantage up in the wilds of Finland during winter testing. CAR magazine's correspondent Ben Barry hooked up with the development team for a slippy, slidey early drive in a late-series prototype.
Enjoy his video above - and be sure to sound off in the comments below. Does Aston Martin have another hit on its hands? Is there too much Mercedes-Benz lurking in there? Does its design match up to its sublime predecessor's levels of want?
Read more Aston Martin reviews by CAR magazine
Tim Pollard
Editorial director of CAR's digital publishing arm. Motoring news magnet
2 Comments
Autonomous luxury: gorgeous Lagonda Vision Concept is all-electric cruiser
Published: 06 March 2018
► Lagonda Vision Concept
► It's an ultra-luxurious BEV
► Tipped for 2021 production
It's not all about racing pedigree at Aston Martin at the moment. While the Valkyrie and Vantage GT3 are seriously exciting race cars, the company's uber-luxurious future has also been on show at the 2018 Geneva motor show.
This is the new Lagonda Vision Concept, a car set to 'represent the next generation of automotive luxury' according to Aston Martin's CEO Andy Palmer.
And it's not some showy V12 hypersaloon, either. Instead, Lagonda has revealed the Vision Concept claiming to be the world's first ever 100% battery electric luxury car brand.
Lagonda Vision concept at Geneva 2018
The car's profile is almost coupe-like, with a low front end, shallow glasshouse and pinched rear. The doors open suicide-style, like Rolls-Royce's coach doors, with the rear opening the opposite way. Parts of the roof even tilt upwards, so passengers can climb in without having to tilt their heads.
While it's unlikely the production will look exactly like it, if it retains the core themes, it'll certainly be a striking car to spearhead the brand's all-electric future.
'The Lagonda Vision Concept is an incredibly bold design statement,' Aston's Chief Creative Officer, Marek Reichman, said, adding 'while Aston Martin design language can be seen as organic and natural, that of Lagonda is more sculptural, shocking and challenging.'
What about the interior?
A smashing together of old and new materials, for a start. Reichman looked to English furniture designer David Linley to help shape the Vision Concept's cockpit. Carbonfibre trim is paired with ceramic tiling, for example, while silk and cashmere carpets contrast with the hand-woven wool seats.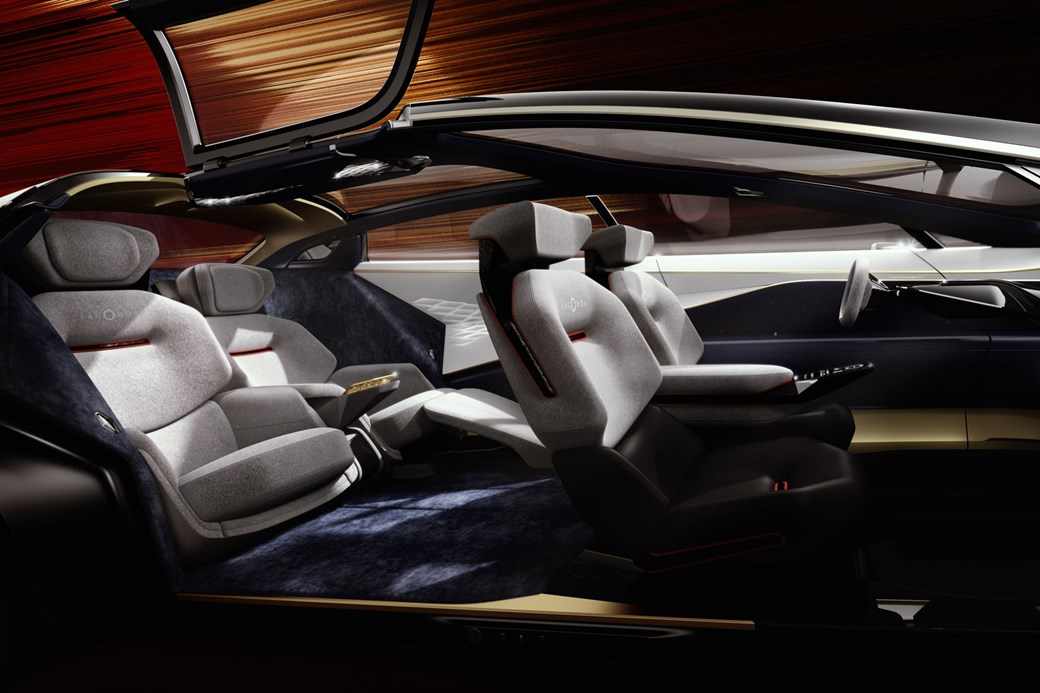 Hexagons are the order of the day, too. The steering wheel is a complex, six-sided affair with a screen inside, there's an ornate gold sculpture between the rear seats and there's even a hexagonal graphic in the lighting structure built into the roof.
Sounds fancy, did you mention a steering wheel?
We did indeed. The Vision Concept is equipped with Level 4 autonomous technology (find out what that means here), but the wheel was kept for those who still want to drive.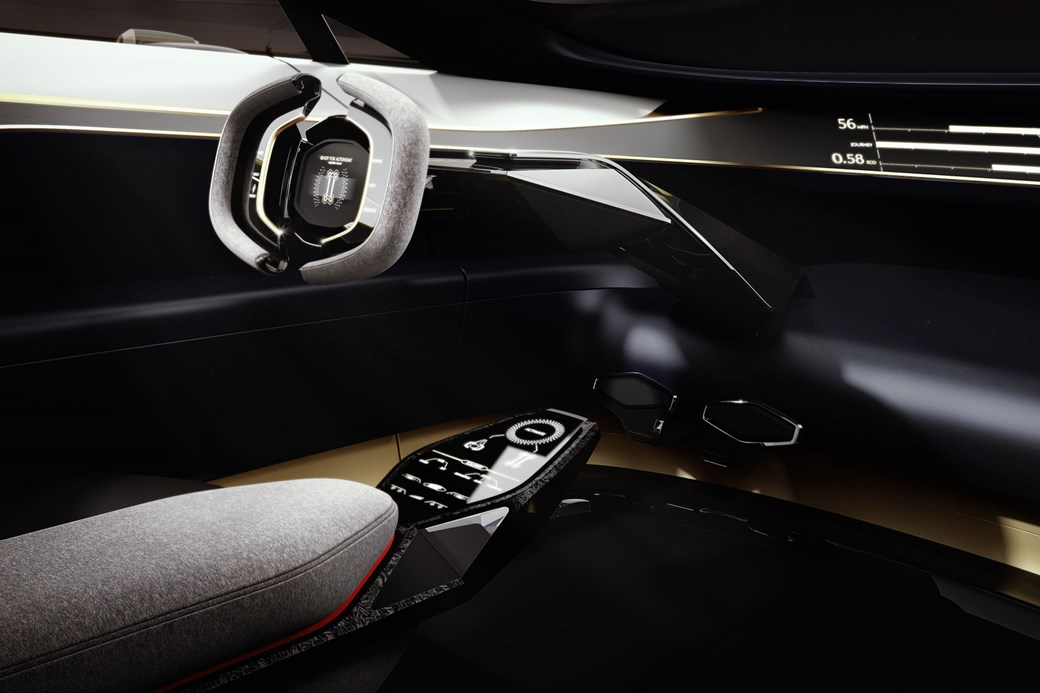 'We imagine most Lagonda customers choose to be driven. If they want to drive themselves, the car will ensure that is a delightful and memorable experience, too – Lagonda will provide that choice,' said Aston CEO, Andy Palmer.
A feature that's unlikely to make it to production is the ability for the steering wheel to move across to different sides of the vehicle, or just hide itself away altogether. It depends how in control you want to be/feel.
The seats will also swivel around, turning your uber-luxurious electric car into a very fancy living room on wheels.
Any other tech specs?
The Vision Concept uses a pack of solid state batteries for power, built into the floorpan. There's a claim of around 400 miles worth of 'real world' driving range and wireless charging zaps the batteries to full in just 15 minutes.
So will this remain a concept, then?
Aston and Lagonda hope not. It wants to put the Vision Concept into production in 2021, hoping that it will become the starting gun for a whole fleet of new Lagonda models. A coupe and an SUV are planned for 2023, and it's expected to be produced here in the UK.
Check out our Aston Martin reviews
Jake Groves
CAR's staff writer, office Geordie, gamer, lover of hot hatches
Aston Martin Vantage GT3 road car (2015) teased
Published: 07 January 2015
Aston Martin Vantage GT3 road car (2015) teased
More info on Aston Martin Vantage
Aston Martin today confirmed it would build a Vantage GT3 road car, to provide a Porsche-style fillip to the ageing British sports car range.
While 911s are regularly given GTS, GT3, GT2 and more life-enhancing treatments, Aston makes do with more occasional upgrades - but when they come, we sit up and take notice.
The Vantage S was one such occasion. And now Gaydon's giving its junior sports car the full-blown GT3 treatment.
Spec, details on new Aston Vantage GT3
Details are few and far between on the new high-performance coupe. Overnight, Aston issued this single teaser image and video of its go-faster Vantage on its official website.
It is due for a full unveiling at the 2015 Geneva motor show in March, when the full story will be told. However, we know it will be based on the V12, not the V8. Which means this will be one epically quick road car - the regular Vantage V12 does 0-62mph in 3.9sec and tops 200mph.
It's clear to see that the GT3 will wear a wing worthy of its race-bred name. Judging by this promotional image, the rear spoiler will be big enough to camp on, stretching nearly the full width of the widened flanks.
Our sources suggest it will be 'a truly "hardcore" Aston Martin, the most extreme Vantage to date' - with less weight and more power. The age-old recipe for more grunt, then…
Is this a track special, or a daily driver?
Although inspired by the V12 Vantage GT3 raced at the Nurburgring 24hrs and other GT competitions worldwide, this will be a road car, fully homologated for daily use on public streets.
Production is expected to be limited to no more than 100 units.
Stay tuned for the full story at the Swiss motor show in early March; deliveries are expected later in 2015, with prices expected to spiral north comfortably in to six figures.
source : carmagazine.co.uk