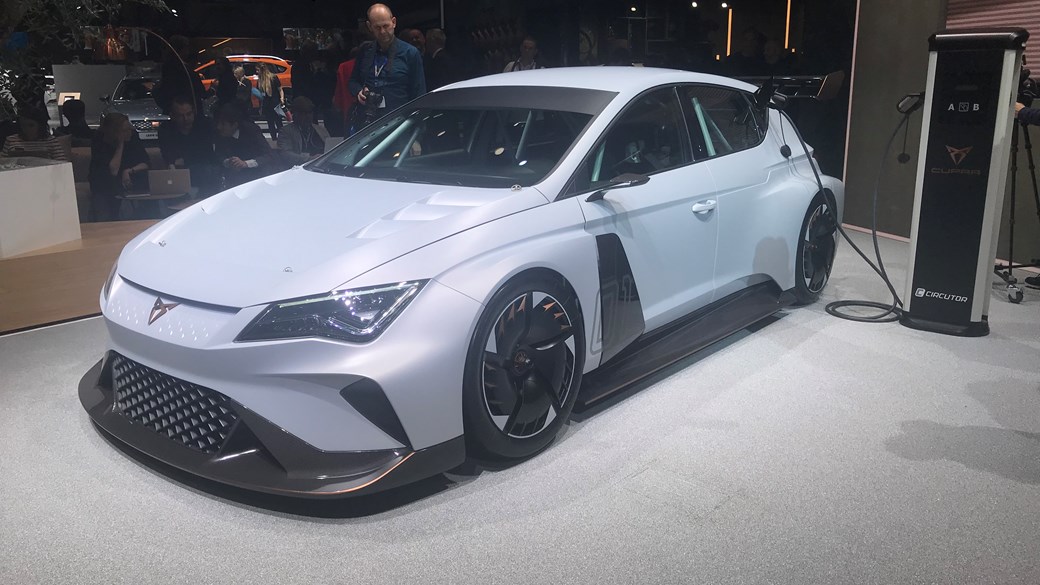 ► All-electric TCR race car revealed
► Falls under the new Cupra sporting brand
► Looks to the future of touring cars
The newly formed sporting arm of SEAT – Cupra – revealed its new e-Racer concept touring car ahead of the 2018 Geneva motor show, but it's made its public debut taking centre stage of the company's stand alongside the Cupra Ateca.
The e-Racer is an all-electric racecar that the Spanish company claims to be the first 100% electric touring car in the world – 'an ecological competition model' – and if the pictures are anything to go by, it promises to be an exciting car to watch.
It's clear Cupra is serious about marking its place among dedicated performance brands with the likes of the Cupra Ateca, and while the e-Racer is a concept car for now, the carmaker claims it'll 'lead the way to efficient racing'. So it looks like we might be seeing this on track after all.
What's so special about it?
As the first all-electric racecar out there, with 300kW of constantly available power, and up to 500kW of peak power for quicker bursts of shove, the e-Racer promises some serious performance.
That equates to the equivalent of around 400bhp of constant power and up to 670bhp of peak power. We think that certainly sounds like enough for an exciting race series!
The e-Racer will whir all the way up to 12,000rpm, is rear-wheel drive and uses a single gear ratio.
Anything else I need to know?
Not especially. Details on this concept are scarce, and it's not 100% clear whether this electric version of the Leon TCR touring car will replace it, or if it'll form a new racing series in the future to run alongside.
It certainly looks the part, though, and it garners a lot of attention among a raft of other sharp-suited SEAT and Cupra models.
Also on stand is the Cupra Ateca, as well as the SEAT Leon Cupra R ST estate – a hardcore version of the already-rapid Cupra ST.
source : carmagazine.co.uk